Three more concepts:
Watermarks: Useful for event time windowing. All input data with event times less than watermark have been observed.
Triggers: Signal for a window to produce output.
Accumulation: The way to handle multiple results that are observed for the same window.
Streaming 101 Redux⌗
What: Transformations⌗
Where: windowing⌗
Make a temporal boundary for a unbounded data source.
Fixed window
Sliding window
Session window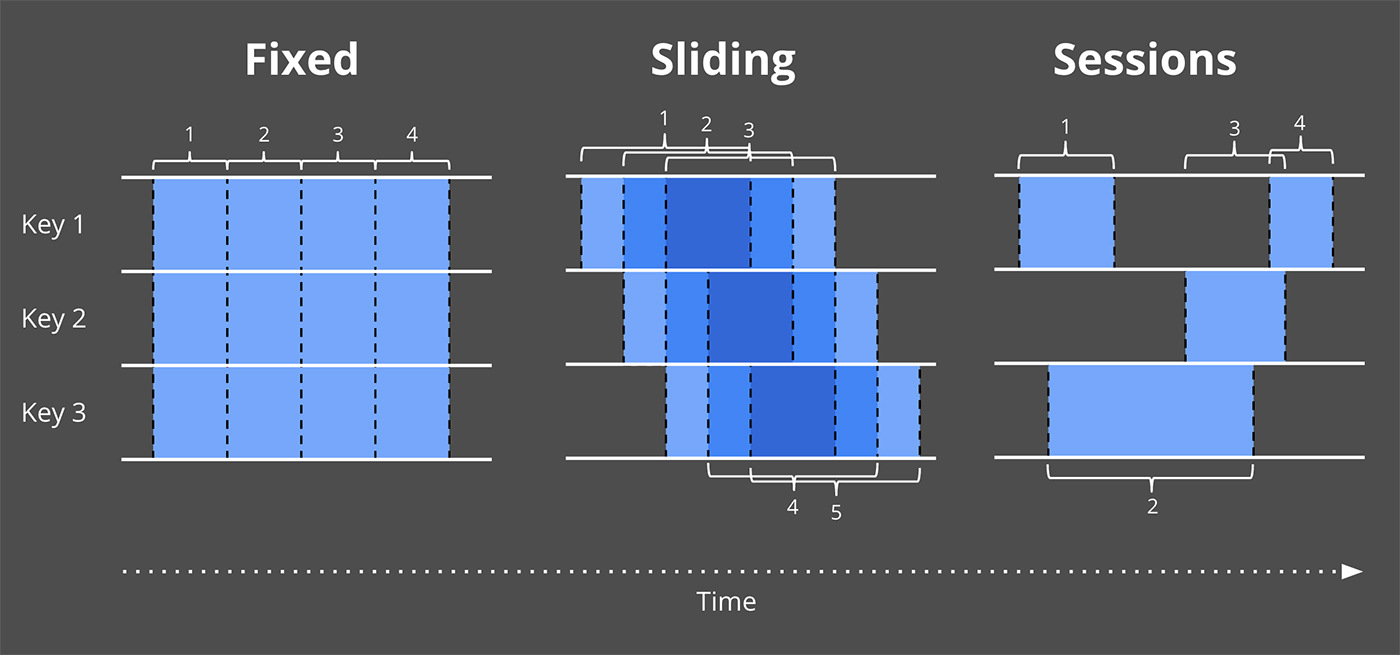 Streaming 102⌗
When: watermarks⌗
Watermarks is a function: \(F(P) -> E\)
P - processing time
E - event time, all inputs with event time less than E have been observed.
The guarantee of watermarks:
Perfect watermarks: no late data, all inputs with event time less than watermarks have been observed.
Heuristic watermarks: may have late data, as accurate as possible. The data may late if the gap between processing time and event time is too large.
When: windows are materialized? The watermark passes the end of the window.
Shortcomings of watermarks:
Too slow: will be very slow to konwn unprocessed data.
Too fast: window may miss data that cause late data.
When: triggers⌗
Triggers complete watermarks that answered: When in processing time are results materialized?
Triggers:
Watermark progress: implicit version that will be trigger when the watermark passed the end of the window.
Processing time progress
Element counts: Triggering when some finite number of elements have been observed in a window.
Punctuations: data-dependent triggers
Composite triggers:
Repetitions
Conjunctions (logical AND)
Disjunctions (logical OR)
Sequences
How: accumulation⌗
Do refinements of results relate when multiple panes are produced by triggers in a single window.
Three different modes of accumulation:
Discarding
Accumulating
Accumulatin & retracting
Where: session windows⌗
Captures a period of activity, terminated by a gap of inactivity.
Intermezzo⌗
What results are calculated? Answered via transformations.
Where in event time are results calculated? Answered via windowing.
When in processing time are results materialized? Answered via watermarks and triggers.
How do refinements of results relate? Answered via accumulation modes.
---
No notes link to this note